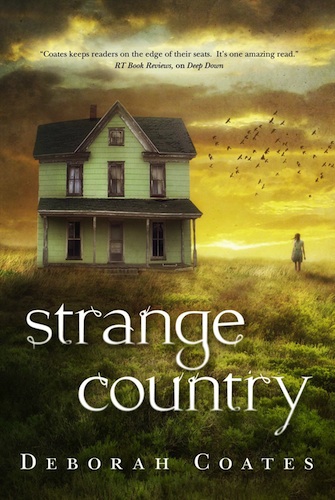 My third novel, Strange Country, is on bookstore shelves today.
Here's the description:
After facing Death himself and banishing a reaper bent on the destruction of Sheriff's deputy Boyd Davies, Hallie Michaels had hoped things would finally settle down; that she and Boyd would find more time to spend together, and that the ghosts she attracts would stay in the cemeteries where they belong.

But on a wintry night in mid-December, a woman is murdered with a high-powered rifle. Not long after, another of West Prairie City's citizens is killed in exactly the same way, drawing the attention of state investigators. But the connection between the victims is not easily uncovered.

Meanwhile, Hallie finds a note tied to post outside her home. "What do you fear most?" it asks, accompanied by a set of map coordinates. Over the next few days she receives an anonymous phone call, and a letter left for Hallie at the local ag supply. All pose the same question and offer the same set of coordinates. The mystery deepens, and Hallie must solve it before the body count rises again, in Strange Country by Deborah Coates.
What I'll say: Strange Country is about Hallie and Boyd, about a killer, about the past and the present, about dogs, both supernatural and non-, about place and family and friends and community, about figuring out what you want and about holding onto it.
I hope it sounds like something you'd like to buy. But more than that I hope it sounds like something you'd enjoy.